December 2014 Newsletter
Hello and welcome to the end of the year! It's been a while since my last update. Please read what interests you in this big note!
In this letter:

What's Changed?

-Accessible Location
-Three-Dimensional (3D) Therapy for Scoliosis
-Classes and Workshops
-Widening My Net – Madison Area Wellness Collective
-Exercises Page

What Has Not Changed

-Try This – Two-Second Neck Stretches With Eye Rotation
-Interactive Body Map – Common Issues and Conditions
-Inspiration – Because You Read This Far
What's Changed?
Yahara Therapy used to be me, as a massage therapist working with you to support your wellness and healing with bodywork; now I am also a physical therapist. My network of wise and valuable people continues to grow. Describing this transition has been a challenge: What am I, exactly, and what do I do?
As a PT, I now have the ability (and legal permission) to assess and treat you more thoroughly. I can provide a diagnosis and create a plan with you to make changes and meet your goals, whether that is recovering after an injury or surgery, dealing with the wear and tear of living (as a human on a planet with gravity – everyone has something to work on!), or to revamp and improve upon your already great self! Each person I work with benefits from my ongoing training and that wise and valuable network –people I consult with and refer to for the best possible service to you.
Today, I am a physical therapist with a lot of experience in hands-on treatment, especially soft tissue techniques. As always, we will partner with each other and find the best paths for you to be well.
Starting in 2015, I will be raising my rates. I intend to keep them stable by keeping my costs low and my practice simple. Details are HERE.
I do not accept private insurance, but I do:
· Accept Medicare for physical therapy services. (To be able to work with those 65 and older, I must do this according to the law.)
· Provide special receipts for you so you can try to be reimbursed by your private insurance company, if you choose.
Since July, I am now based only out of my home office in Madison and am no longer in Evansville with the Good Care Collective. However, we still collaborate and support one another's work.
Accessible Location
I am now able to schedule appointments as needed in a shared office on the East Side of Madison that is fully accessible. The suite at 3830 Atwood Avenue is peaceful with an accessible treatment space and restroom, and plenty of parking.
Three-Dimensional (3D) Therapy for Scoliosis
In November I spent nine days in Stevens Point, WI training with the experts in conservative scoliosis treatment and am now certified as a practitioner in three-dimensional (3D) scoliosis rehabilitation at the basic (C1) level by the Barcelona Scoliosis Physical Therapy School (BSPTS) and Scoliosis Rehab, Inc. Since I was first introduced to Beth Janssen of SRI, I've been inspired by her passion and the amazing results of this exercise-based therapy. I watched young people change their shape before my own eyes. Learn more about the history and technique of Schroth-Based Therapy HERE and soon on my web site. An article in the New York Times also highlighted the Schroth Method. Read HERE.
This is an intensive exercise-based treatment which requires the person to be committed to daily practice and dedicated to their own care. We work closely with a person's physician and orthotist (brace-maker) and help them understand their x-ray films and the nature of their spinal curves. I am trained to work with adolescents and non-painful adults with scoliosis and kyphosis. The goals of this treatment are to decrease the asymmetry of the spine, build balanced muscle strength and stability, improve lung function, enhance the corrections of a brace if worn, and potentially avoid surgery. In turn, this reduces the effects of wear and tear and degeneration over time and of damage related to the special stress of living with spinal asymmetry.
Classes and Workshops
Teaching and presenting is an important part of my work life. Some of my favorite moments this past year have been creating, growing and presenting classes and workshops. I plan to continue to improve upon and share these with more people. Here are a few of them. I always strive to make a class accessible, both physically and financially. Please contact me for details or with ideas.

• "Ballroom Basics for Balance" is a class that was born out of boredom! For people who are at increased risk of falling, balance practice exercises are a great way to reduce that risk and enhance confidence and – well, improve balance! The exercises really work, but they lack excitement. One day in a job at a nursing facility while walking forward, backward, and sideways with a person (who was not exactly inspired with the exercises), my hands gently on their hips for safety, I thought, "If only we had some music! We're doing the rumba!" I couldn't shake the idea. So, I decided to create this class. I recruited colleagues, friends and therapy students to help plan, and we ran our first seven-week class in the spring of 2014. There were six of us. We just finished our second eleven-week class in November…and there were 19 of us! Fourteen PT and OT (occupational therapy) students volunteered their time to help us run balance tests, plan curriculum and train others, and dance with and accompany the participants in the class. We have a wonderful partnership with the Madison Senior Center that makes this all possible. In February of 2015, we will be holding the twelve-week class in the beautiful glass-walled Central Library in Madison because we've outgrown our space! The community we formed with one another is invigorating and confidence-building and makes balance practice much more fun!
Next steps: As we finalize the curriculum this year, we plan to make it available to others who would like to use this class in their facilities or community centers. We are also searching for funding resources, such as grants, to help improve and continue this work.

• "Stepping On" is a research-based, seven-week workshop that is proven to reduce the risk of falls in older, independent-living adults by 30% (and up to 50% in Dane County, WI!). The class is held worldwide, but most of the ongoing research on its effectiveness is done here in Wisconsin, so we have a large community of instructors and classes. I am a certified instructor for this peer-based group class that focuses on safety and making changes, such as managing medications, addressing vision issues, practicing balance and strength, and moving more safely in one's own home and out in the wider world.

• "Self-Treatment for Common Aches and Pains (Using Everyday Household Objects)" – This is a light-hearted but educational community workshop I've done several times. A lot of pain and discomfort can be relieved using self-massage, stretching and other techniques. Which kind of pain is to be worked-through and which is a warning-sign? This class shows people how to take control of their own issues and how to work on them safely. It is always interactive and participants go home with a parting gift!

• More…There are other workshops that I will be offering in the coming year. Goals are to help people avoid unnecessary financial and physical costs, to get and stay healthier, and to learn more about their bodies and how to use them safely and comfortably. Working topics include "Anatomy and Physiology for Everyday People" , "Lifting (weights, kids, and other stuff) Safely", and "Preventing Injury and Self-Treatment for Circus Performers".
If you made it this far, enjoy some ergonomic humor!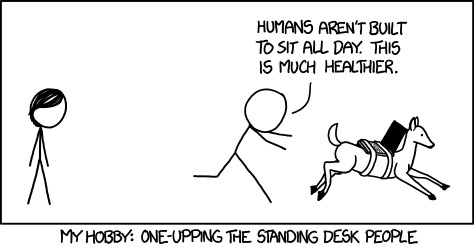 Widening My Net – Madison Area Wellness Collective
I am pleased that after a year in the making, the Madison Area Wellness Collective (MAWC), a group I spearheaded with colleagues, is growing. MAWC is a group of multi-disciplinary wellness professionals committed to changing the face of health care by facilitating connections. We will be reaching out to other professionals and the community to tighten our beneficial bonds, to provide the most whole wellness offerings to the people with whom we work. We are PTs, OTs, nutritionists, physicians, mental health professionals, acupuncturists, bodyworkers, fitness professionals, and more. We are in private practice and within the mainstream health care organizations.
The recent changes in our national health care movement toward Accountable Care Organization (ACO)s is recognition of what most of us have always valued and known: Collaboration in care is the most effective and economical way to help people get and stay healthy and we are stronger, smarter and much better together. If you would like more information, drop me a note! Stay tuned for more information, including where to find us on the Web.
Exercises Page - Stay tuned as I expand the newest page on my web site. Try the posted posture and balance exercises. Try the sample neck stretches, below! Have ideas? Send them along!
What Has Not Changed is that people need core things to be vital. You must challenge yourself on purpose. That means different things to each one of you. What is challenging for you?
Strength - It's never too late or too early to challenge your muscles. Strength training makes healthy bones, keeps joints sturdy and dependable, decreases pain.
Flexibility - Muscles and nerves and other "soft tissues" need to have some ease of movement. Stiff joints and sticky spots benefit from purposeful stretching and hands-on help like massage or other therapies.
Balance– The world and you have to be in agreement about which way is up; playing with balance and keeping your senses healthy makes a difference in how easily and safely you move about your life.
Movement – Humans are designed to move; some of that movement should make your heart beat faster and your lungs expand and your joints feel happier. If some movement hurts or feels unsafe, it's time to ask for help to figure out why and what you can do about it.
Rest and Space – Sleep that helps you refresh, meditation, a quiet moment for a deep breath or a stretch: These are beneficial to your health. Rest, especially healthy sleep, can boost your immune system, benefit your digestive system, help you manage pain and more. Instead of filling every moment, consider being still in a quiet car or just sit and observe the world around you.
Good food – Stuff that feeds your cells but also your soul and heart. Food can be healing.
Are these things in balance for you? If you would like help, partner with me: Let's get creative and figure how to fit changes into your life. It can be fun. It doesn't have to be expensive!
Try This – Two-Second Neck Stretches With Eye Rotation
Necks! They are often stiff, and limited rotation is a common issue, especially with age. If this sounds familiar, you can help make things better*. (If not, you can help keep things supple and mobile!) Use this stretch for a study or computer break, and any time you feel the need.
1. Sit or stand comfortably and upright, balanced on both feet or both sitz bones.
2. Relax your shoulders. Breathe easily throughout.
3. Rotate your head slowly and gently toward the left as far as it goes, and at the very end, rotate your eyes as far to the left as you can.** Can you feel the extra intensity of the stretch?
4. Hold for 2 seconds. Return to face forward.
5. Repeat toward the left for 8-12 repetitions. You should be able to stretch a little farther with each one.
6. Now, repeat to the right.
Q: Why eye rotation? A: The eyes are intimately connected to and coordinated with the muscles of your neck; we have a primitive connection that helps us react to the world around us quickly and appropriately. Using the eyes can help stimulate the sensors in the muscles of the neck, enhancing the stretch.
*If you have stenosis, a history of fracture or certain other medical conditions, take care with this exercise. Get the advice of your friendly health care professional!
**A little discomfort is OK when stretching, but if you have sharp, shooting or burning pain; tingling or numbness; dizziness or eye problems; or if the discomfort worsens after a few repetitions, stop.
Interactive Body Map – Common Issues and Conditions
Check out this NEATO! quick reference from the APTA to learn more about common conditions, such as Frozen Shoulder, Herniated Disk, and Carpal Tunnel Syndrome. Click on a body part to learn more about an issue that may be concerning you. Then, ask your friendly PT for more information!
As always, please check my web site for more detailed information about me, my practice, and helpful resources.
Inspiration – Because You Read This Far
"A Chiseled Bodybuilder, Frail Clients and a Fitness Story for the Ages" The New York Times, Sports, By LOUIE LAZARJUNE 20, 2014
"With his enormous muscles bulging beneath a small T-shirt, Martin Luther King Addo guided one of his most dedicated clients through a squat exercise inside his tiny Manhattan gym. 'You can do it, Shirley,' he said.
Shirley Friedman, a silver-haired 90-year-old standing 4 feet 9 inches, shifted into another gear, bending at the knees for multiple repetitions." Read more: http://nyti.ms/1plm3MA [Make sure to watch the video! –sef]
I wish you warmth, sustenance, support and balance in all things,
Susan